YOUR GAME NIGHT GIFT AWAITS
As a valued Wyndham Rewards Earner® Card or Wyndham Rewards® Visa® Cardmember, you are invited to enjoy this complimentary Game Night Gift which you can enjoy at a wonderful Wyndham Hotels & Resorts® property while traveling or from the comfort of your own home†. Your gift will include dominoes, a deck of playing cards and delicious popcorn.
Quantities are limited, so reserve your gift now!
Game Night Gift Inclusions:
•  Dominoes
•  A deck of playing cards and
•  Delicious popcorn
†Cardmember gift is available to select primary Cardmembers until registration supplies are exhausted or March 24, 2023 (whichever occurs first). The gift is limited and is available on a first-come, first-served basis. Must be a Wyndham Rewards Visa Cardmember or Wyndham Rewards Earner Cardmember to secure benefits. There is no cost associated with claiming this gift. Registration entitles Cardmember to one (1) Game Night Gift. Limit one (1) Game Night Gift per primary Cardmember. The Game Night Gift will be shipped approximately three weeks after registration closes, on or about April 19, 2023. By registering for this experience, you are giving Wyndham Rewards permission to provide your name, address, email, and telephone number to third party vendors, partners (Vega Group LLC), Barclays, and shipping services (i.e., FedEx, UPS, etc). Each of Visa U.S.A. Inc, Visa International Service Association and Wyndham Rewards reserves the right to modify or cancel this offer at any time upon notice to invitees. Schedules and staffing are subject to change. Gifts are not for resale. Void where prohibited. Game Night Gifts will be delivered directly to the address provided at the time of registration. Delivery area limited to the United States, excluding Alaska, Hawaii, and all U.S. territories and possessions.

Limitation of Liability:
Participant agrees to comply with all applicable regulations with respect to the offer. In redeeming this offer, participant, on behalf of himself/herself and his/her immediate family members (spouse, parents, children and siblings and their spouses) and individuals living in the same households of such participants, whether or not related, agrees to release and hold harmless (i) Wyndham Rewards Inc., Vega Group LLC, Visa U.S.A. Inc., Visa International Service Association; and (ii) the parents, subsidiaries, successors, affiliates, related companies, client financial institutions, premium gift suppliers, and advertising, promotion and marketing agencies of each of the foregoing entities; and (iii) the officers, directors, employees and agents of each entity described in the foregoing clauses (i) and (ii); and (iv) the successors and assigns of all parties described in the foregoing clauses (i) from any and all liability or damage of any kind (including personal injury) resulting from or arising from participation in this offer and/or acceptance, possession, use, misuse or nonuse of this offer (including any travel or travel-related activity thereto).

The Wyndham Rewards Earner® Cards are issued by Barclays Bank Delaware (Barclays) pursuant to a license by Visa U.S.A. Inc. Visa and Visa Signature are registered trademarks and used under license from Visa U.S.A. Inc.

© 2022 Barclays Bank Delaware, PO Box 8801, Wilmington, DE 19801, Member FDIC.
All Game Night gifts will be shipped on or around Wednesday, April 19, 2023, to the address provided at the time of registration.
This experience is complimentary to Wyndham Rewards Earner® Cardmembers and Wyndham Rewards® Visa® Cardmembers only.
Invitation is limited – available while supplies last.
Limit of one (1) gift per primary Cardmember
---
CONTACT US at [email protected]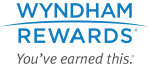 ---